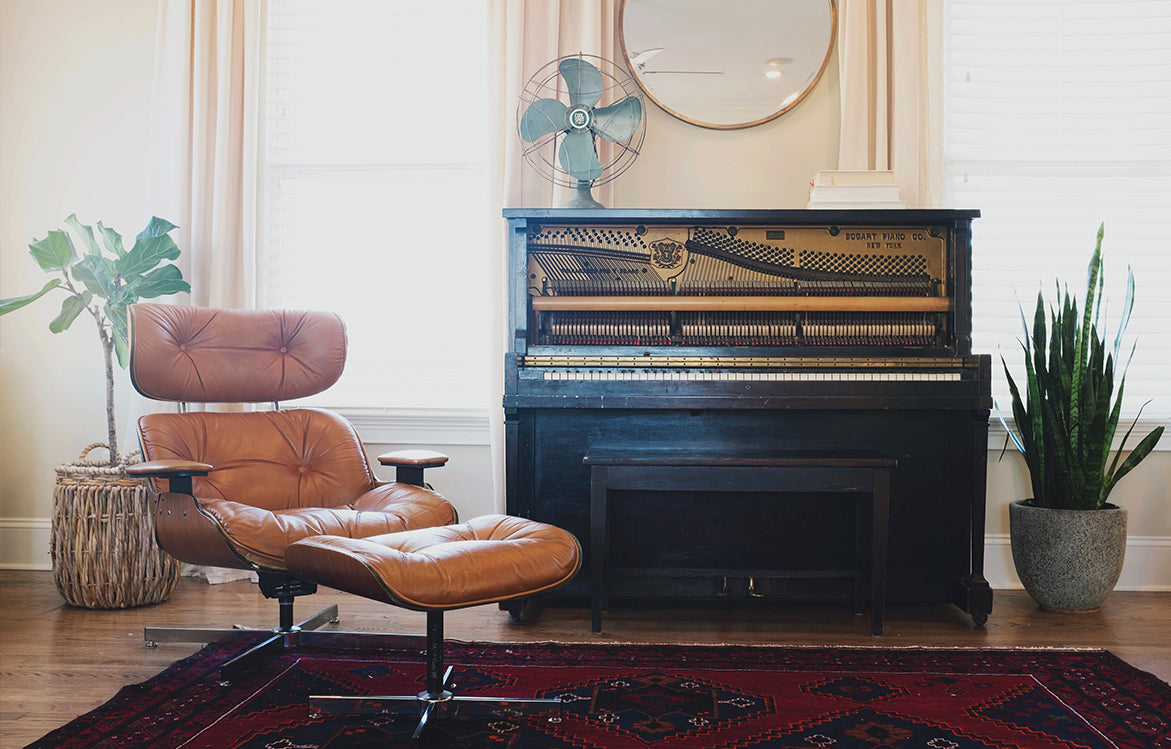 Creating Your Own Modern Rustic Style: How to Incorporate Natural Textures, Chic Furniture and Bold Elements
Are you looking to modernize your home in a way that incorporates natural materials and cozy textures, but isn't modern farmhouse?? Look no further than combining modern and rustic styles into modern rustic style! This design aesthetic is all about balance and contrast between modern furniture, decorations, and elements with rustic accents.
From reclaimed wood to mid-century statement pieces, modern rustic brings visual interest while providing a warm and inviting atmosphere. In this article, you'll learn some tips on how to create modern rustic spaces in your own home with tips on materials, colors, accents and furniture. Let's get started!
What is Modern Rustic Style?
Modern rustic look is distinguished by clean, modern design balanced by lighter, natural woods, highlighting the art of mixing high and low. If you're aiming to infuse contemporary, chic style with a rustic flare, modern rustic interior design is ideal. This design style seeks to balance modern pieces and soothing natural textures. The art of mixing high end and low end decorations to create interest contributes to the overall look. To achieve this luxurious aesthetic, get creative by blending clean designs with cozy items for something both fashionable and inviting. Bring about a unique residence epitomized by a state of friendly luxury and rest assured that your guests will never return void of admiration.
To learn more about mixing high & low, see this article on vintage charm!
Contrast rustic pieces with modern elements
In the quest for a modern rustic style interior design, a few key elements can be implemented which give the ideal modern rustic feel. A key component of any rustic room is wood accents. When you need an original wooden piece of artwork or an unusual coffee table the rich tone of wood will be appreciated. Modern rustic living room decoration Generally speaking, you will want the exact same colors for your wood. Use bright colors to add more warm atmosphere to the room. If the light wood and gray tone gives you an interesting warm vibe, the answer will be here!
Modern Rustic Design Must Haves: Wood Accents
Combining rustic and contemporary designs is a great way to achieve an elegant rustic style look. Start with the basics of rustic design, like natural wood and textured fabric, then add contemporary touches, such as glossy black accents or modern lighting. The addition of such details will give your home a unique, one-of-a-kind style that is truly elegant!
Focus on a contrasting color palette
The contrasts between colors are key in modern rustic design. Rustic designs are famous for their warm dark hues and modern designs are known for their warm airy colours. The easiest way to achieve the best combination of light color is through mixing dark colours with lighter shades for an aesthetically balanced appearance. In some homes the ceilings have wooden exposed beams and you need to stain it with a dark color before painting your walls white. In contrast, darker wood furnishings look great on white backgrounds.
Add Some Softness With Cozy Textiles
This elegant, modern rustic home does not require any comforting materials. Since clean lines are often hard for modern style, it is important that the room is balanced and used with fabrics. Integrating soft textures to spaces makes rustic design so welcoming and warm. Rustic modern bedroom design Textiles are no longer just pillows or curtains, there are also dazzling furniture designs incorporating dreamy textures.
Invite several textures to your space
Another important factor in a modern rustic style is the use of textures. Fabric such as faux leather, wool and cotton adds a touch of rustic appeal. For a contemporary feel, use neutral-tone rug or pillows with minimal design for sleekness and class. Tweeds and weaving materials are also excellent choices that combine traditional and modern styles. It's important to keep some important aspects in mind when designing a modern rustic house. Lets avoid these things for foreseeable reasons.
Watch out for too many natural pieces
One thing that should be avoided is to go for the entire place feeling rustic. While reclaimed wood and stone are important in creating your rustic style, it is easy to overdoing and adding too much organic materials. This will give your room an overwhelming feel, so modern touches are essential to the mix of design style. Then use the natural materials for an overall look; Use modern materials in the design to add some style, even some antique furniture in a mid century modern style is a great way to keep it fresh.
Add metal and glass materials to your design
For a rustic look and feel in a house, you should use contemporary materials such as metal or glass. Material materials such as metal and glass are sleek and modern in appearance. Install glass decorations in the vase or on your furniture for a harmonious mix of natural and artificial materials. In addition metal legs and other detail can look great in contemporary rustic designs. If utilizing metallic surfaces in your space you should choose matte black shades that keep things simple and minimal.
Get the look
Dining Room Touches
Our table is begging for a modern makeover with exquisite farmhouse-inspired popart style cookingware! Silky marble and saturated chrome tones, shining antiques and dazzling lifestyle accents...The dining room has never looked this deliberate in stylishness. We need popart cooking pieces that tantalize the senses! Appliances to energize not only our appetites, but also the scene itself. More artistic shapes, more clever cuts; accouterments crafted out of unique textures--this is what sets our table apart and elevates a rustic space. Each detail considered thoughtfully, woven into an act of contempory antiquity--these are the furnishings that stay relevant no matter what. We can't get enough of trendsetting items like these when it comes to curating an exciting atmosphere at mealtime.
Glossy Ceramic or Enameled Metal Canisters
These stunning enamel metal canisters can be used as the perfect alternative to replacing a whole room to give a rustic touch. This bar cart seamlessly crosses the line between traditional and trendy by displaying a non-finished feel that feels completely rustic. Add barware and an old touch like Emily Henderson did in that copper lantern and you're set to create the perfect entertainment place. 5 out of 5 stars Smith & HawkerTM.
Blown Glass Vases and Hand Crafted Ceramic Vases
Hand blown glass vases and hand crafted ceramic flower vases are unique items that can bring an air of modern rustic charm to any room or event space. Their beauty is timeless, yet their style is unmistakably sophisticated. Whether you're looking for a gift or specific decor pieces, these genuine, handcrafted materials will be the perfect touch and will add a special character plus individual sentimentality to your decorations.
Mid-Century Modern Legs
Industrial mid-century modern legs offer an effective means for turning traditional farmhouse tables into something funkier. Industrial mid-century modern legs are the perfect way to instantly transform a traditional farmhouse table into something with a ultra chic, funky vibe. With just one piece, you can add drama and stylish sophistication to a classic furniture design! These innovative additions can take your dated table and give it an attractive contemporary charm. Perfect for those looking to update their dining area but don't want a drastic overhaul, you can effortlessly integrate Industrial mid-century modern legs into your home decor theme to achieve this splendid tweak.