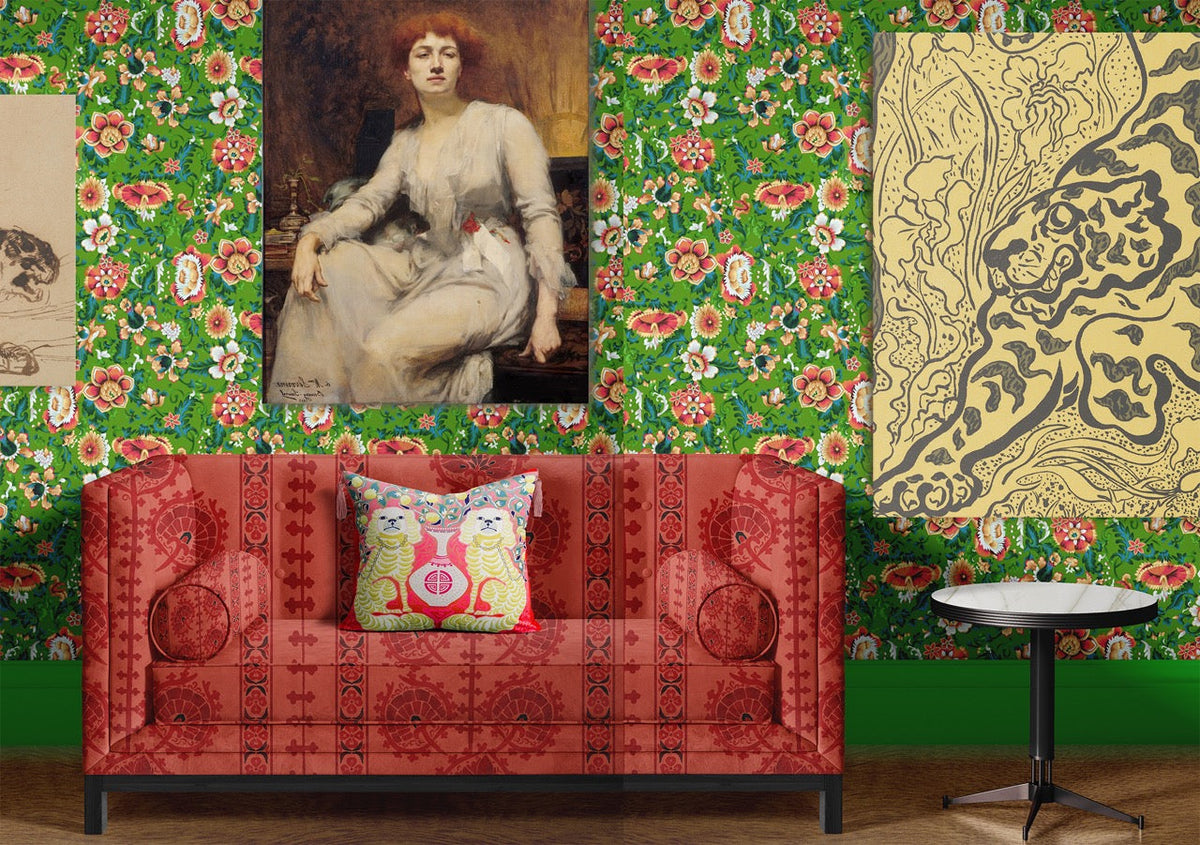 How To Achieve a Vintage Maximalist Look In 5 Steps
Are you ready to unleash your inner maximalist? 
Get set to create a truly one-of-a-kind space with the help of vintage maximalism tips. We're here to share five great ways to achieve a vintage maximalist look (no clutter needed!) that will make your home stand out from the crowd.
We'll explore different colors, wallpapers, fabrics, and eras so you can create an eye-catching space. So let's get started on this exciting design journey!
Nail the look:
Frequently asked questions about Vintage Maximalism
What is Vintage Maximalism?
Vintage maximalism is a vibrant decor style and trend that celebrates bold colors, eclectic textures and unexpected pairings. It's all about breaking free from traditional design rules, and making a unique look that stands out from the rest of the crowd in a way that's very individualistic. Vintage maximalism allows you to mix patterns, colors, fabrics and eras together to make an exuberant atmosphere that is full of visual aesthetic and joy. The key to achieving this look is to embrace the unexpected. Hit the thrift store to incorporate different colors, textures and fabrics from different eras in your space makes a unique and captivating effect. You can also introduce patterns in different scales, use vibrant colors and your thrift store finds of mismatched furniture to achieve an eclectic atmosphere.
What is a maximalist style?
The design styles are grounded in a philosophy of "more is more" that often combine an eclectic mixture of shapes and materials. Maximalism tends towards big and bold decisions about colors, shapes and forms.
Is maximalism making a comeback?
When you browse interior designers magazines, you might see that colour play and the maximalism trend will has started to explode recently, and minimalism is headed out. Everybody from Architectural Digest and Better Homes & Gardens believes in the Maximists takeover with the interior dominated by huge bold and full walls and vibrant colours everywhere.
1. Play with Colors and Patterns
The first step to creating a maximalist look in your home is to mix and match colors and patterns. Bold, vibrant colors and patterns can be used throughout the space for a cohesive and eclectic look. Start by picking a color scheme for your space and incorporate it through various elements, such as your furniture, textiles, paint, wallpaper and artwork.
Don't be afraid of having different patterns, such as stripes, polka dots, and florals. Our favorite way to start is by choosing a bold wallpaper, because it immediately will provide you with a color scheme to play off of. A designer era specific wallpaper or a geometric wallpaper can make a totally different aesthetic. Quality counts, however, choose something durable and matte—like our wallpaper that's created in London by some of the best craftsmen in the world. We even offer a tutorial on insta.
When it comes to pattern mixing, wallpaper really is the key to a bold look—the trick is to look for patterns that have a similar color scheme or theme. You could pair a floral print wallpaper with a geometric pattern, as long as both feature similar shades of or your colorway, like below in reds, or even something more luxe like pink and green.
Another way to pair patterns is to choose a dominant pattern and pair it with a more muted or subtle one, an especially good approach for a smaller places like an apartment or business. 
2. Layer Textures: Another key element of maximalism
"In maximalist design, layering textures is key to adding depth and uniqueness to a house."


Soft textiles such as throw pillows, rugs, and curtains, can be mixed with hard surfaces like metal, glass, and stone, to make a multi-dimensional and tactile aesthetic. This combination creates visual depth to the space.
In maximalist design, layering textures is key to adding depth and uniqueness to a house. This means incorporating different materials, such as wood, metal, leather, paint and fabrics, to craft a layered look that feels cozy and inviting.
One way to do this is to start with a neutral fabric base and then layer on different textures in varying shades and patterns. You could start with a neutral-colored sofa and then add colorful throw pillows and a faux fur blanket for texture.
Layering rugs of different sizes and textures is a great way to add warmth to a room. Try layering a colorful kilim rug under a plush shag rug for a bold and cozy look, making a warm feel for a room used primarily at night.
Maximalist design is all about breaking the rules and pushing boundaries, so don't be afraid to mix and match textures that may seem unconventional. You could pair a sleek, modern glass coffee table with a plush velvet sofa for an unexpected contrast.
3. Be Bold: Creare an Artwork Gallery Wall and Use Decor with Geometric Lines
Maximalism is all about embracing boldness, and incorporating bold artwork, art and decor is a great and practical way to achieve this. Large, statement artwork and objects can be used as a focal point in a room, while smaller pieces of art and decor can be arranged in groupings to cull clutter into a visually appealing display.
Bold artwork and decor are essential for creating a truly maximalist look. Whether you're looking to make a statement in your living room, bedroom, office, or dining, this collection is the perfect way to add some personality and flair to any interior.
One of the key elements when using bold artwork and accessories is contrast – bringing together pieces varying shapes, sizes and colors make a dynamic and captivating display.
Large statement pieces in interiors can be the perfect way to instantly transform any room. From large-scale abstract paintings to striking sculptures as centerpieces, choosing artwork and accents that are both eye-catching and unique will help give every corner of your maximalist interior a truly individual look.
Accent pieces such as mirrors, vases and lamps can also be used for texture and a sense of depth in a room.
4. Maximalism without Clutter
One misconception about maximalism is that it requires clutter. However, this is not the case, more stuff isn't the goal. Maximalism is about using boldness to make visual interest, not about creating chaos or overloading knick knacks. To achieve maximalism without clutter, focus on practicality, editing collections and creating a balance between colors, textures… aka— spark joy. Use furniture and decor that complement each other to nail a cohesive look.
5. Mixing in Vintage Wares & Plants
Using vintage items is a great way to add character to your decor. Not only do these pieces bring unique charm and timeless elegance, but they also help you make a look that's truly one-of-a-kind. Go slowly—whether it's an antique armchair, a retro lamp or a classic painting, a few years of collecting this stuff can make all the difference in your vintage maximalist design.
When choosing vintage items, take your time and shop for antiques that have a unique shape and texture to showcase them. Antique furniture can be used as statement pieces or blended into the house and overall design, but don't rush it, like this summer you could choose an heirloom armoire for your bedroom, or next winter incorporate a mid-century dresser in your living room.
For a truly maximalist look, combine vintage items with new pieces that have similar colors or patterns. This will elevate with an eclectic play of old and new, helping you to achieve the perfect vintage aesthetic.
You can also use vintage accessories like rugs, lamps, mirrors and vases to add further visual interest. By carefully selecting vintage items and combining them with modern pieces, you can finesse a unique, decorating style that is truly one-of-a-kind.
Get Maximalist with Plants
Adding plants to your home is a great way to incorporate the maximalist design style. Plants can add a touch of natural texture and color to a home, while also helping to purify the air. Use plants of different sizes and varieties to design an eclectic and lush look, especially in the bedroom.