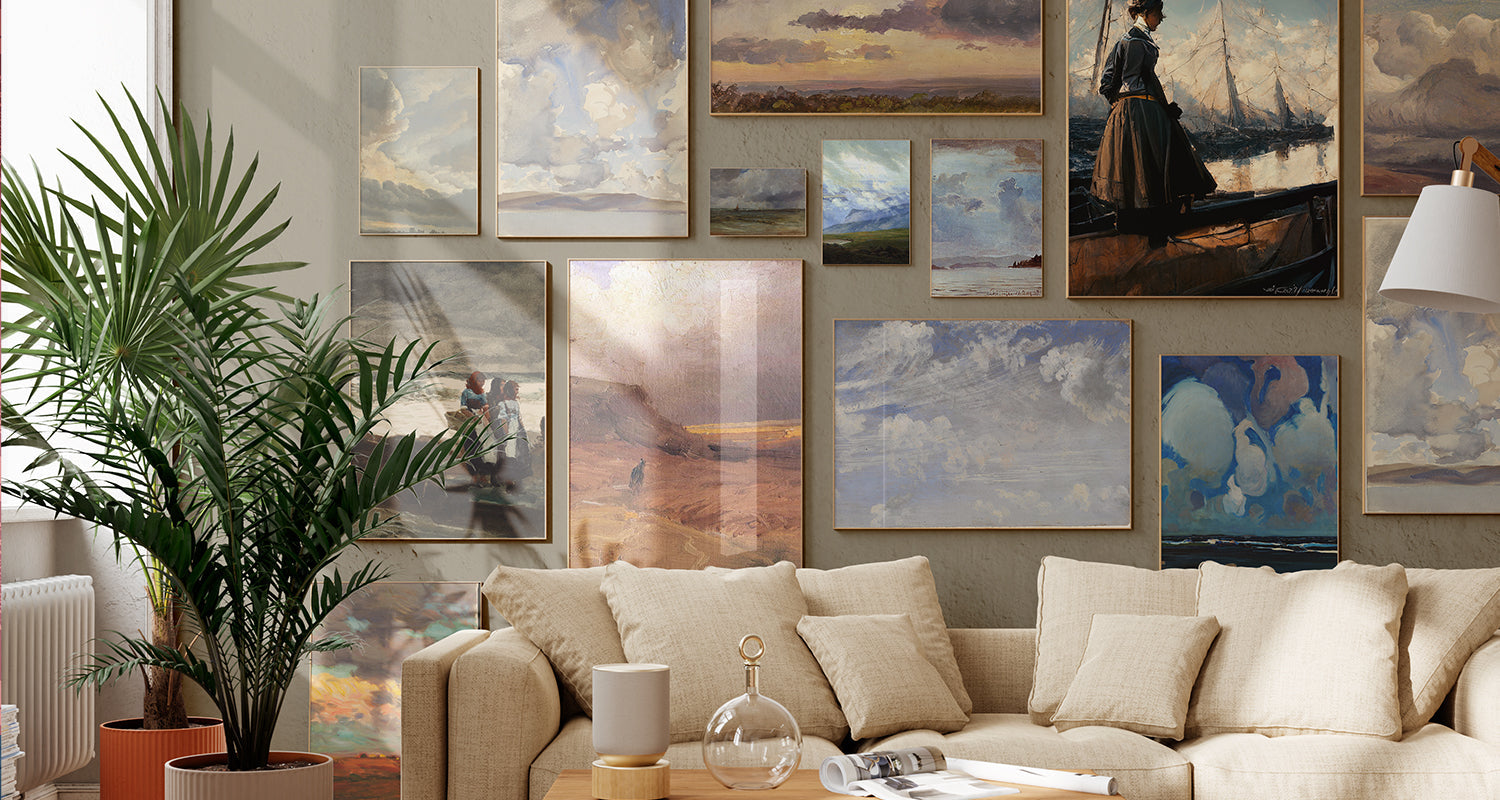 How To Decorate the House—From Scratch
How to Decorate the House—From Scratch
Where To Start When Decorating A 'New' Home From Scratch
When decorating your home, there are so many things to take into consideration. From dining rooms that need furnishing, powder rooms needing a decorator's touch and coffee tables needing modern decor - and even entire spaces to be designed and decorated - there is plenty of work to do! But with the right home decorating tips, expertise and the help of professional interior designers, decorating your home is a breeze.
If it's your first time, we suggest starting your decorating adventure with an entrance hall or small room that reflects your individual style - it can be as simple as adding a landing pad, wallpaper, or a gallery wall! Bunny Williams, a famous decorator, renowned for her ability to create stunning designs with even the most limited resources. She encourages decorators to start decorating by focusing on one room at a time and considering it's daily use. From there, design and decorate one room at a time, until the whole home, each area has its own style, decor and vibe.
How to Decorate a house from scratch
A note before we get started:
It's really easy to get overwhelmed with so much to do, so take our advice: Don't try to decorate a house all at once. 
You'll make decisions in the long run that you aren't happy with, spend too much money, or worse, in a weak moment end up buying a showroom look...that looks like a showroom.  
Instead, use the basics you brought with you, or buy the bare minimum in a style you will love for a long time. Know you want a king size mattress? Buy it. Just wait on the headboard. Use boxes in the closets instead of committing to a dresser just yet. Need a place to sit in the Living room? Buy versatile chairs you love... they may end up in the Primary bedroom or a den in the long run, but better than locking yourself into a major piece like a sofa at this stage. 
Besides, the house-warming party will be so much fun to dream with everyone about what could be, versus presenting a house you hurried to make perfect, but doesn't evoke your personality. 
Let's get started: Decorate the house
Whether you have one living room or an entire new home to decorate, professional decorators recommend starting with a floor plan. This will help you map out where furniture will go, determine the right color schemes and accent colors, and measure square footage. 
Grab a measuring tape and some masking tape. Assuring successful decorating starts with deciding on a style and getting familiar with the room's measurements. Accurately measuring each piece is the building block of creating the desired ambiance in each area of your house.
Obviously there are a lot of ways to do this, and for a non-pro, it doesn't make sense to use a fancy program. So we're fans of the app  MagicPlan. It's inexpensive and easy to use. 
Knowing what furniture to incorporate, how much room you'll have, and mostly importantly what your storage needs really are (another reason to not rush this process) will make sure you have impeccable results! 
If the app isn't your style, grab some masking tape and just block out on the floor what sizes seem to be working. Walk around them, check for how far a chair needs to be typically pulled out, or a drawer, and start to bring your ideas to life the old fashioned way. Write down the approximate sizes as a handy guide for when you go hunting.
Once you've got ideas, it's time to move to choosing your aesthetic, be it modern or traditional, decide which color palettes you are most happy with, our advice is to ignore trends when it comes to color, and look instead at your heart's happiness.
Magazines, Pinterest, Sunday afternoons meandering funky flea markets, historic homes, or downtown home décor stores are great methods for uncovering eye catching pieces that further compliment just the right amount of quirk. 
But remember one fundamental thing: correct measurements coupled with your true personality culminates in a style that can't go wrong.
Don't Start with the dining table, instead think of the entire room like an outfit.
First, take stock of the whole room. As a professional interior designer, I suggest starting with the flow of one room to another, understanding the flooring, whether you'll need area rugs or carpet. This will immediately ground and bring life to the living space ,how it will be used.
Then, it's time to look at the lighting needs. Do you have natural light? Will the lighting be used primarily for evening activities, like reading or dinner? You'll want to carefully assess this before deciding which lighting fixtures to you'll need, from chandeliers to a floor lamp to recess lighting.
Next, let's move to the walls and admire all of your beautiful windows! Adding a gallery wall is a popular choice, oftentimes promoting visual impact with hanging canvas prints of sentiments that mean something special for center stage on your personal style. Then measure for curtain fabric in different textures, sizes and designs add interest.
Or consider repainting the wall with a softer hue of white so it can give off relaxed vibes within your space! Finally when constructing your personal paradise, accessorizing the walls with fun decorative pieces or works of art gives off an artistic glow like one can find in exquisite art galleries.
Create a space or floor plan
When decorating a new space, you need to have a good understanding of space planning. 
This includes taking the time to measure room dimensions, decide on furniture and decor items that fit in with your decorating style, and choosing colors or wallpapers that will flow from one room to another throughout the house.
Break down your new home decorating plan by rooms
Make sure you tie each room together through simple color cues or shapes. The biggest mistakes I see are when people plan each room in different era with different main ideas— it Should feel like your home is a symphony, all parts are unique but in harmony and towards one goal.
Most professional designers say a very easy way to do that is to use a lighter hue or two that compliment each other in a sliding scale or hierarchy in each room— An example, one living room may be white with cream and pink accents, while the bathroom designed is pink with cream accents, and the dining room then is cream with white accents and a pink floral arrangement.
We also suggest that decorators think about how their decor pieces can work hard– like an ottoman that acts as a coffee table and storage chest, or a sofa that can accommodate overnight guests. We encourage decorators to decorate with their own style, even in small spaces. For example, if you have an extra small space that needs some decorating, incorporate bright colors and decor accessories to add pizazz.
Define Your Style & Feel
What's your vibe? Cool cali, Grand Millennial, Maximalist vintage, mid-century modern? if you aren't sure, check out our guide to finding your personal style. Then once you are ready, the first big thing come down to an either or choice: decide if overall, is it a clean aesthetic or one of variation—for example, incorporating gallery walls is a grandiose way of seeing matters splash against the wall and suspend once ordinary settings into atmosphere, but sometimes just a few pieces of true fine art is enough.
Clean lines or frilly window coverings provide functionality whilst promoting extra moments to use your color scheme in a room. When utilizing curtains as part of characterizing any designed room, choose fabrics favoring uniformity within the overall remainder of furnishings and design motifs.
From the walls to the floors, creating a style and feeling that reflects you is the most important part of decorating your home. Be bold and try something new; don't shy away from carpet as it can instantly warm up even the coldest of rooms instantly!
Professional decorators recommend adding pops of texture and lighter washes of color to create a coordinative atmosphere that works with existing furniture. Basics like accent pillows and throw blankets wind ward away an old style look as wall art and rugs create depth in any space, bringing depth to defined areas.
When all of that's finished, it's time for fun layer pieces such bookshelves, lamps and coffee tables– these things aren't just pretty little decorations but also necessaryi –accessorizing often sparkle creative curiosity– infusing personality while they serve their function. Once armed with all this masterful decorating advice, you'll be able to put a personal spin on every room in your home that your guests won't soon forget!
Now let's go shopping—start with the biggest piece in the room first
You start with shopping for the centerpiece items, the bed, the dining table, the sofa. Once you have your look together it's just a matter of taking your handy sizing list and hitting the stores. While we do most of our shopping online, you still need to understand scale and see some of the pieces you've 'sized up' in real life. 
When decorating your home, it's important to choose the right size furniture for each room. For a dining area or a whole dining room, select a large dining table and add comfortable chairs with upholstery fabrics that match your decorating style. If you have a small space, opt for a square dining table or consider using two smaller tables for additional seating options.
Wallpaper and Paint are your new best friends
Color schemes are important —whether you choose wallpapers or paints in lighter hues or bolder colors to set the right mood in each room, know your primary, secondary and tertiary colors for the room—and in some cases to decorate the house.
When decorating your home, one of the most important elements is color. The right colors can set the mood and create a harmonious atmosphere in each room. Many pro's opt for lighter hues such as whites and neutrals to decorate walls, but if you want to add some oomph to a space, choose delicate colors from your favorite adventure, or brighter colors—maybe even embrace the maximalist patterns so loved today. Our personal favorite approach is when decorating the bedroom, den or living room, opt for warmer tones to promote a cozy vibe while cooler tones are better suited for offices and bathrooms.
Additionally, it is important to choose colors that flow from one room to another when decorating the entire house. Select paint colors or wallpapers that blend well together and create an overall design style throughout the house.
Now you have the Large Pieces, time to Layer in Accessories
Decorative objects: Use decor pieces to bring all the elements together and create a stunning space.
When decorating a total place, it's important to use decor pieces that will bring all the elements of each room together and create a stunning space. Professional decorators suggest decorating with items that are both functional and decorative.
A few well-placed decor pieces in the living room or kitchen can add serious vibe and personality to the entire space. Decorative accessories like figurines or plants can also be used to decorate the entrance hall, powder room and other smaller spaces.
In addition, decorators suggest using decor items that will serve double duty, like coffee tables with storage compartments or dining tables with drawers. Think about how daily life creates need you can accommodate but do'nt have to see, like when you watch tv and need a cozy blanket.
These types of decor pieces are both functional and aesthetically pleasing, making them ideal for decorating a whole room. With the help of professional decorators, you'll be able to bring all the elements together and decorate your home in style.
Dining room and Living Room Decor Ideas
For the living room, choose a comfortable sofa and armchair that are upholstered in fabrics that suit your decor. Add a coffee table and floor lamps to create a cozy atmosphere. In the bedroom, opt for a bed frame with stylish headboard, nightstands and dressers that provide plenty of storage space.
When decorating smaller rooms such as the tv room or powder room, it's important to choose pieces that serve multiple uses. For example, opt for an ottoman with a storage compartment or decorate with throw pillows and blankets that can be used in multiple ways.
Make a Statement
Add visual interest with accents colors, wallpapers, gallery walls and window coverings that can start an inspiration piece.
Adding decor to any home can have a monumental impact on the overall look of a room.
 Introduce wallpapers with lighter hues for subtle elegance, muted vintage colors like seen here, or add accent colors that stand out. 
Wall decals or peel-and-stick wallpapers are an alternative option for those wishing to pique visual interest but avoid covering entire walls with strong shades unless you are ready to really commit. Should you find yourself wanting neutral colors when attempting to decorate, opting for wallpapers in a muted pallet will serve to fully maximize any available space.
To decorate a house, like we mentioned before, we suggest starting with one room and decorating the entire space. Measure the dimensions of the room so you can create an accurate floor plan and determine how much furniture, decor, and accent colors you will need to decorate the entire room.
Once you have chosen your items for that particular room, you can use the same decorating tips and style to decorate the next room. The goal should be to make rooms flow, but not match exactly. 
You can also create a reading nook in a bedroom with the addition of floor lamps, throw pillows, and an area rug. With these decorating tips from pro's, you can easily transform your dream home into reality.
Finish With Art and Accessories
The flea market is a great place to find decor pieces that are unique and inspiring to decorate the house. A pro's simple tips for decor items from the market into your decorating scheme for a more eclectic look. Look for furniture pieces, decorative objects and fabric materials that can be used throughout the whole house. With a little creativity, and a few bold colors, you can make these decor pieces your own and incorporate them into the decor of your home.
In addition to decorating with thrifted market finds, decorators suggest adding a few personal touches that reflect your style. For example, you can repurpose furniture pieces by upcycling them or painting them in different styles. You can also use decor items to create a focal point in the bedroom, like decorating around a piece of furniture or hanging a single painting on the wall. With these decorating tips from professional decorators, you can make your flea market finds unique and bring your dream home decor vision to life.
Get advice.
When decorating your home, getting the best decorating advice from professional decorators is essential. At Ramble & Roam Co., our team of experienced decorators can help you create a unique design style that reflects your personal style and meets all your decorating needs. We specialize in creative vibes, floor plans and color, as well as decorating with furniture pieces and decor items that serve double duty.
Our decorators can also help you make the most of your square footage, while still creating a beautiful space. We'll help you get rid of those white walls while still chosing lighter hues to open up small spaces, or warmer tones to create the right vibe in larger rooms. And on the same job we'll teach you how to decorate with paint colors, wall coverings, choose kitchen cabinets and new hardware, finesse a bedroom into an oasis, decided on window treatments and fabric materials that will add visual interest to the entire space. With our decorating tips from professional decorators, you can make your home decor dreams come true.
Ramble & Roam Co.'s team of professional decorators are here to help ensure that your home decorating project is a success. Contact us today to learn more and get started on decorating your entire home in style.
Conclusion:
There you have it, you've started your journey to decorate the house. From decorating with furniture and decor items from thrifty finds to selecting the right color scheme for your space, decorators can help you bring your dream home decor vision to life. Contact us at Ramble & Roam Co. today and let our experienced decorators assist you in creating a beautiful home decor style that fits your needs.