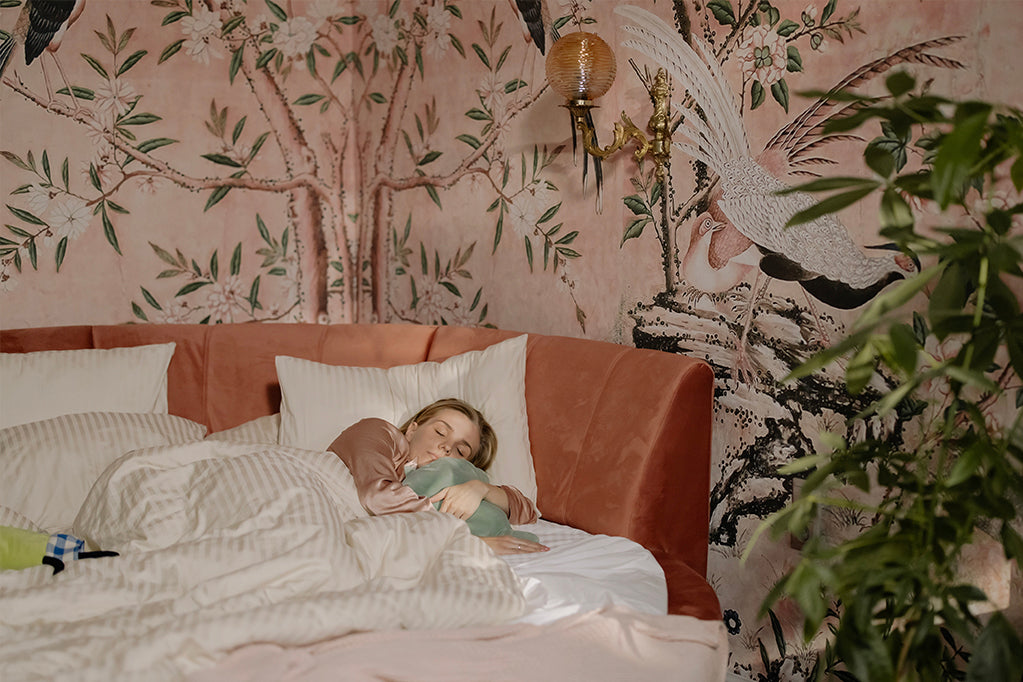 Maximalist Art Deco, a Step-by-Step Guide: Create an Elegant Art Deco Bedroom Sanctuary
Welcome to The Adventuress, where we'll be discussing the fundamentals of the Art Deco movement in interior design, with a specific focus on the bedroom. Art Deco is a french term for a style that originated in the 1920s and 1930s and has remained popular ever since due to its elegance, glamour, and luxury.
As interior designers and decorators, we have always been drawn to the Art Deco style because it offers a unique blend of sophistication and functionality.
Nail the look:
Rambleroamco.com​​
Art Deco Design Fundamentals
In this article, we'll be exploring the key elements of Art Deco design that you can incorporate into your master bedroom to create a stunning and luxurious space. We'll cover everything from the color scheme and furniture selection to lighting and accessories.
So if you're a DIY interior designer looking to transform your own bedroom into a chic and stylish retreat, this article is for you. Let's dive in!
Let's start with the color scheme.
The first and most important aspect of Art Deco in design style is the color scheme. The Art Deco is iconic interior design styles and style is characterized by bold, contrasting colors, such as black, white, gold, silver, and red. However, it's important to balance these bold colors with neutral hues like pink, beige, gray, or cream.
To create an Art Deco color scheme in your bedroom, start by selecting a primary color that you love.For this article we chose green, but it can be any bold color that catches your eye, such as deep red or emerald green. From there, select a neutral color to balance it out, such as pink, beige, or gray.
You can also add accents of metallic colors like brass, gold or silver to create a luxurious look.
When it comes to painting your walls, one option is to opt for a neutral hue and use your primary color as an accent throughout the room. For example, if you choose deep red as your primary color, paint your walls a light beige and use red accents in your bedding, curtains, and accessories. 
If you are a maximalist like us (we see you, friend) then go big with wallpaper and your main or secondary hue. 
Use a rich colour palette
"Art Deco palette colours are bold and striking jewel tones such as deep greens, plums or sapphire blues."


Alternately you can choose a softer pastel (such as blush pink, cream colours or neutral shades). Whatever color palette choice you choose, you have to add contrast.
Often through graphic black/white highlighting, vibrant colour pops and sparkling metallic colors. The bold can try the more unique tones like Art Deco inspired colour palettes of powder blue or pale green contrasted with dark blue trim or powder pink contrasted with contrasts between sunshine and orange colors.
Furniture selection for a modern art deco style
Art Deco furniture is known for its bold geometric shapes, curved lines, intricate details, and luxurious materials. To create an Art Deco bedroom, choose furniture pieces that feature these characteristics, which isn't hard to find right now.
For the bed, select a statement headboard that features bold geometric shapes or a luxurious fabric, such as velvet or satin. You can also choose a bed frame with Art Deco-inspired details, such as chrome accents or geometric cutouts.
When selecting bedside tables and dressers, opt for pieces with clean lines and geometric shapes. Look for furniture with unique details like mirrored surfaces, metallic finishes, or carved accents. Don't be afraid to mix and match different pieces as long as they fit within the Art Deco style.
Lighting
Lighting is a crucial element of Art Deco design as it helps to create a more glamorous look and sophisticated ambiance in the bedroom. When choosing lighting fixtures, look for pieces that feature bold geometric shapes, metallic finishes, and glass or crystal details.
A bold statement, chandelier or pendant light can be the centerpiece of your Art Deco bedroom. Choose a statement piece with clean lines and geometric shapes, such as a chandelier with multiple tiers of rectangular or circular glass panels. You can also incorporate metallic finishes like chrome, gold, or brass art deco chandelier to add an extra touch of luxury.
In addition to a statement light fixture, consider adding table lamps or floor lamps to create a layered lighting effect. Look for lamps with unique shapes and details, such as a lamp with a metallic base and a geometric-shaped shade.
Accessories
Finally, to complete the art deco aesthetic of your Art Deco bedroom, you'll need to select accessories that complement the art deco interior design, color scheme, furniture, and lighting. Look for pieces that feature geometric shapes, metallic finishes, and luxurious materials like velvet, silk, or faux fur.
Start by selecting bedding that complements the color scheme of your bedroom. Look for bedding with bold patterns or metallic accents. For curtains, choose a fabric that complements the color of your walls and adds a touch of luxury, such as velvet or silk.
When it comes to decorative accessories, the key is to choose pieces that add a touch of glamour without overwhelming the space. Mirrors are a popular choice in Art Deco design as they reflect light and create a sense of spaciousness. Look for mirrors with geometric shapes, mirrored frames, or metallic details.
Other accessories to consider include vases, sculptures, and picture frames. Look for pieces with clean lines and geometric shapes, such as a vase with a cylindrical shape or a sculpture with a triangular base. Metallic finishes like gold, silver, or bronze can add an extra touch of luxury to these pieces.
BONUS ROUND: Next Steps to Master the Look
Mix in vintage pieces
When it comes to creating a modern and luxurious art deco bedroom, there is something special about mixing vintage furniture pieces with contemporary designs. Vintage furniture brings an elegant and timeless look to any room, while modern touches bring a unique touch of style inherent glamour and sophistication to modern day a bedroom.
The combination of these two elements can create an inviting atmosphere that is perfect for unwinding at the end of the day.
For a bedroom with an art deco look and feel, start off by selecting some classic vintage furnishings such as a French Louis XIV armchair or settee. You could also add a few antique wall sconces or lamps to the bedroom to provide extra lighting in the room.
For additional charm, consider adding some original family heirlooms like old photographs or paintings. These pieces will bring a personal touch to the room and help make it feel like your own.
When selecting modern designs for the master bedroom, look for colors and textures that bring out the art deco vibe of the room. To give the space an opulent feel, choose items with gold or silver accents. Mirrors can also be used to add brightness and dimension to the walls.
If you want something more daring, try adding items with bold patterns such as in geometric patterns and shapes or bright colors like reds and blues. Or if you prefer a subtler look, opt for muted tones in fabrics such as velvet or silk.
Art Deco wallpaper
With art deco decor and wallpaper, you can bring beautiful patterns and shapes to any room. Whether it's a classic diamond trellis print or something more unique like a geometric pattern or a neon animal print motif,  the decor and possibilities are endless. Not only that but it adds an interesting texture as well.
We love the idea of using this wallpaper behind your bed headboard for a bit of visual drama and emphasis, especially in bedrooms with minimal furniture. Plus, there's no need to worry about painting the walls!
This art deco bed style is also great for creating a modern yet still traditional feel. Art deco wallpapers have often been used to create grand entrances or even mid-century inspired living rooms with mosaic tile prints and bold colors like navy blues and emerald greens. We also love the idea of using these prints to create an art deco vanity or gallery wall, with all different kinds of shapes and sizes that can be used.
Art deco wallpaper is also incredibly versatile, so much so that it can even be used in bathrooms! Whether you go for a classic monochrome fan print or something more modern like chevron patterned paper, this art deco style geometric wallpaper will bring life and personality to your bathroom.
Plus, there's no need to worry about water damage as most art deco wallpapers are particularly waterproof and easy to clean.
Last but not least, art deco wallpaper is perfect for adding a bit of luxury and glamour to any room. With its bold colors and striking shapes, art deco boasts how it can be used to create an atmosphere of decadence and mystery.
From dressing up an office space with a metallic print or creating a luxurious master bathroom with a bold floral design, art deco wallpaper will give your home the grandeur it deserves.
At Ramble & Roam Co., we are passionate about art deco wallpaper and what it can do for any room in your home. We have hundreds of options to choose from, so you're sure to find something that perfectly fits into whatever look you're going for. Plus, our wallpapers are all made using high-quality materials so you know they'll last through years of wear and tear.