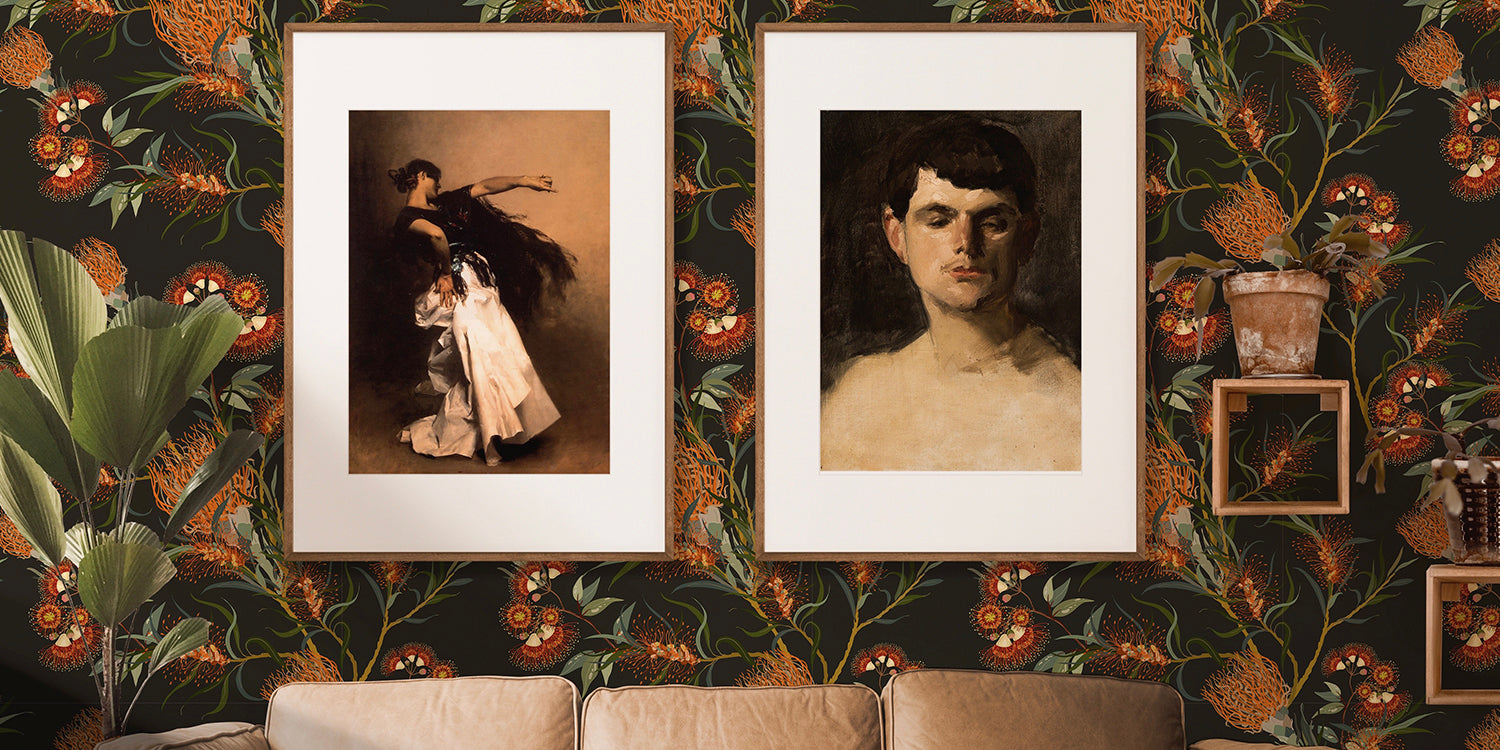 Unlock the Secrets of Designing with Floral Wallpaper
Our guide to everything from new floral neutral wallpaper to vintage florals, from one maximalist to another.
Floral Wallpaper, a guide.
Floral wallpapers are incredibly versatile tools to create an enchanting ambience. Wallpapers with flowers can vary based around the model and can be romantic, playful, charming or naturally – among other features. Flowers Wallpaper is suitable for most private homes and provides an appealing ambience in hotel rooms, restaurants and cafeterias, shops or even public spaces.
Aside, flowering is symbolic in that it has a symbolic significance so that the floral pattern is able to communicate different messages.
Why choose floral wallpaper?
This is an exciting way to bring life into your home! Floral wallpaper is a timeless design choice that will give your interior an instant touch of sophistication. Its intricate patterns and muted color palette bring a subtle yet stylish look that adds warmth and visual interest to any room.
Whether you prefer bold and colorful designs or more understated motifs, floral prints offer something for everyone – you'll be sure to find the perfect pattern to fit your existing decor.
Moreover, thanks to advances in printing technology, there are now plenty of options for those who want to make sure their home is VOC's and toxic free, Ramble & Roam Co. only works with eco-friendly and sustainable manufacturers and uses only water-based inks and quality ECO-Print technology.
Our matte black velvet or silk-like wallcoverings feature vintage artsy motifs to a modern twist on traditional design. So, if next time you're looking for a timeless way to add some luxe flair to your home, black floral wallpaper could be the ideal option.
How do you style a room with floral wallpaper?
When it comes to styling a room with floral wallpaper, there are endless possibilities. There is freedom to know how to do it correctly though, so that's why we created this guide, with a few terms and to address a few myths you'll be delighted to see the possibilities neutral floral wallpapers or bold wallpapers can offer you!
From pale pastels like sky blue cornflowers to bold blooms like electric blue orchids, a floral motif can provide character and charm to your walls or any interior space.
When styling a room with floral wallpaper, start by choosing the perfect flower pattern for your particular style and needs.
Consider the size of the room and how much light it receives—you may want to opt for a smaller pattern if you have low light, or a larger-scale print if the space is bright enough to handle it. You should also decide on the color scheme you want: saturated pink or blue, bright blooms, floral neutral wallpaper with muted tones, or somewhere in between. Make sure to consider the paint you are using for trim and molding. A paint color can really change what the perceived wallpapers ground is, so make sure to check against a color stick.
After that's decided, choose furniture pieces that complement—not compete—with your printed walls; neutrals work well here so as not to detract from the wallpapers impact. Finally, add accessories like rugs, artworks and pillows that draw out the colors of your wallpaper for an overall finished look.
Small-scale patterns
Small-scale pattern wallpaper is a great way to liven up your home without going overboard. Subtle yet never monotonous, these intricate designs transform any room into a dynamic, romantic and inviting space.
The term "millefleurs" refers to an arrangement of thousands of small floral patterns – a style that became popular across Europe, with France as its cultural epicentre. To this day, carefully crafted small-scale patterns have become a staple of interior design, from delicately romantic to bold abstract themes.
Not only do these flattering and inspiring wallpaper designs bring life into any room, but they can also be used to set the tone for any kind of décor. Whether you're looking for something calming or lively for your walls, look no further than small-scale pattern wallpaper!
What color background is best for flower wallpapers?
When choosing flower wallpaper themes for your walls, the color of the background can be just as important as the pattern.
Light, neutral backgrounds work well combined with busy patterns and pale colors, while a darker grey, black or a dark blue background can give a more structured look.
Alternatively, if you want to add contrast to a room, go for two wallpapers with a statement-making blue teal, plum, or yellow mustard backdrop. If you're after something subtle and sophisticated, then grey wallpaper with floral motifs is an excellent choice.
It's also important to consider how much natural light there is in the room—you may want to opt for a lighter shade if it's bright enough as this will create more of an airy feel. On the other hand, if you are working with dark walls that lack natural light, then choose black background with brighter colored florals, for example in red or white or to achieve an eye catching result.
Light options
The light cream base colour and patterns are ideal for use on small areas without daylight. It opens up the space to a wider extent. For light cream colored floral wall coverings the designs are often cheerful, sometimes simple; they emphasize the cream and its romantic character.
How do you create with the flower wallpaper trend?
Incorporating the flower wallpaper trend into your home is a great way to make a bold statement. Floral motifs have been around for centuries, so you can draw from their timeless beauty when putting together a new look.
To start with, decide whether you want to opt for an all over pattern or use it as an accent wall in an entry– both will achieve different results. If you're going for an all-over look, then choose darker colors to avoid the space feeling too busy and pairing them with furniture pieces in tonal palettes that complement the design.
For an accent wall, experiment with brighter colors and make sure there's enough contrast between the walls and furniture to create visual interest. Finally, accessorize with items like lamps, vases and artworks that draw out tertiary colors like neutrals in cream, ivory or white from the floral print for a polished finish.
English floral design
English florals are small flowers that appear mostly on a white or pastel background. Naturally, English roses are prominent, as do lavender, poppies, honeysuckles and jasmine. These buildings were heavily inspired by Victorian times.
English floral design has been a popular choice of wallpapers among decorators for centuries. Throughout the 18th, 19th and 20th centuries, English-style wallpapers have been carefully crafted in order to bring a fresh and cheerful atmosphere into any home. With classic prints like roses and peonies to more modern interpretations of flowers such as poppies, these timeless designs offer an elegant way to bring warmth and beauty into your space.
In England during the 18th century, many wallpaper designs leaned toward the baroque aesthetic with intricate details resembling natural landscapes or grandiose scenes featuring large-scale flowers which were popular in both classical and Renaissance-style paintings. The 19th century saw the emergence of lighter palette colors with soft pastels and delicate florals, often featuring roses or cabbage roses motifs.
In the 20th century, English floral designs became even more contemporary with abstract prints that hinted at nature while embracing modern sensibilities. No matter what era they come from today, English floral designs are timeless works of art that will continue to be cherished as a beautiful addition to any wall décor.
Flowers and birds
For those looking to make a bold statement with their wallpaper, floral designs that feature birds like egrets and herons offer an eye-catching combination of pattern and color. Whether you want a more whimsical look with cartoon-like silhouettes of these graceful creatures, or a more realistic representation using intricate stencils and mixed media, wallpaper featuring birds has the power to bring life and energy into your space.
Not only are these designs incredibly striking and unique, but they also provide an opportunity to embrace nature indoors. Whether you choose to create a dynamic mix 'n' match bedroom look or go for a minimalist bathroom look with one or two large scale egret prints, you'll be sure to find something that reflects your personal style and adds character to your home.
Nurseries and children's rooms
Flower-themed nursery furniture gives the nursing homes a warm and comfortable feel. Floral designs in pastel colours can provide a pleasant atmosphere and calm newcomers. In children's room, soft floral design has become very popular. Sometimes the items have another element such as birds or fairy tales.
What art to hang on floral wallpaper?
When creating a maximalist vintage look with floral wallpaper, it's important to choose artwork that complements the pattern without overwhelming it. To start, draw out colors from the wallpaper design – bold colors like yellow mustard and deep green work particularly well – and select pieces with motifs that closely match the tones used in the wallcovering.
For example, consider opting for floral-inspired art or naïve paintings featuring birds and other animals.
For a truly maximalist look, hang pictures of different sizes clustered together at varying heights on the wall. You could also opt for artworks in ornate frames or vintage posters as these will provide an interesting contrast to the wallpaper behind them.
Checkout Ramble & Roam Co.'s collection, From The Archives, for prints we offer of lesser-known works by famous and overlooked artists from the 18th-20th century.
Lastly, don't forget to take a page from the pioneers of this look and include some shelves displaying trinkets like antique vases and found ornamental objects which will bring more texture and personality to the space.
Art for walls
Floral wallpaper is a timeless way to bring beauty and tranquility into any home. From impressionist tulips to classic roses, flowers have been the subject of some of the greatest works of art by masters both old and new. Now, you can easily bring these moments of brilliance right into your own home with large-scale floral wallpaper wall designs that offer a positive, calming atmosphere.
When compared to traditional art, floral wallpaper has become an increasingly affordable way to transform your living space. With so many different styles available in digital prints, textured vinyls and other beautiful materials, it's never been easier to make your walls 'bloom' with life and give your interior design an extra dimension!
Whatever style or era you choose, floral wallpaper is a timeless choice in interior design that brings beauty, texture, and warmth into your home. Whether you prefer classic wallpapers with intricate patterns of roses and peonies or modern interpretations of poppies and abstract motifs, these designs can be used to create a unique and inviting atmosphere for your space. With so many varieties available on the market, you're sure to find one to suit your style. So don't hesitate – add some flair to your home with floral wallpaper!