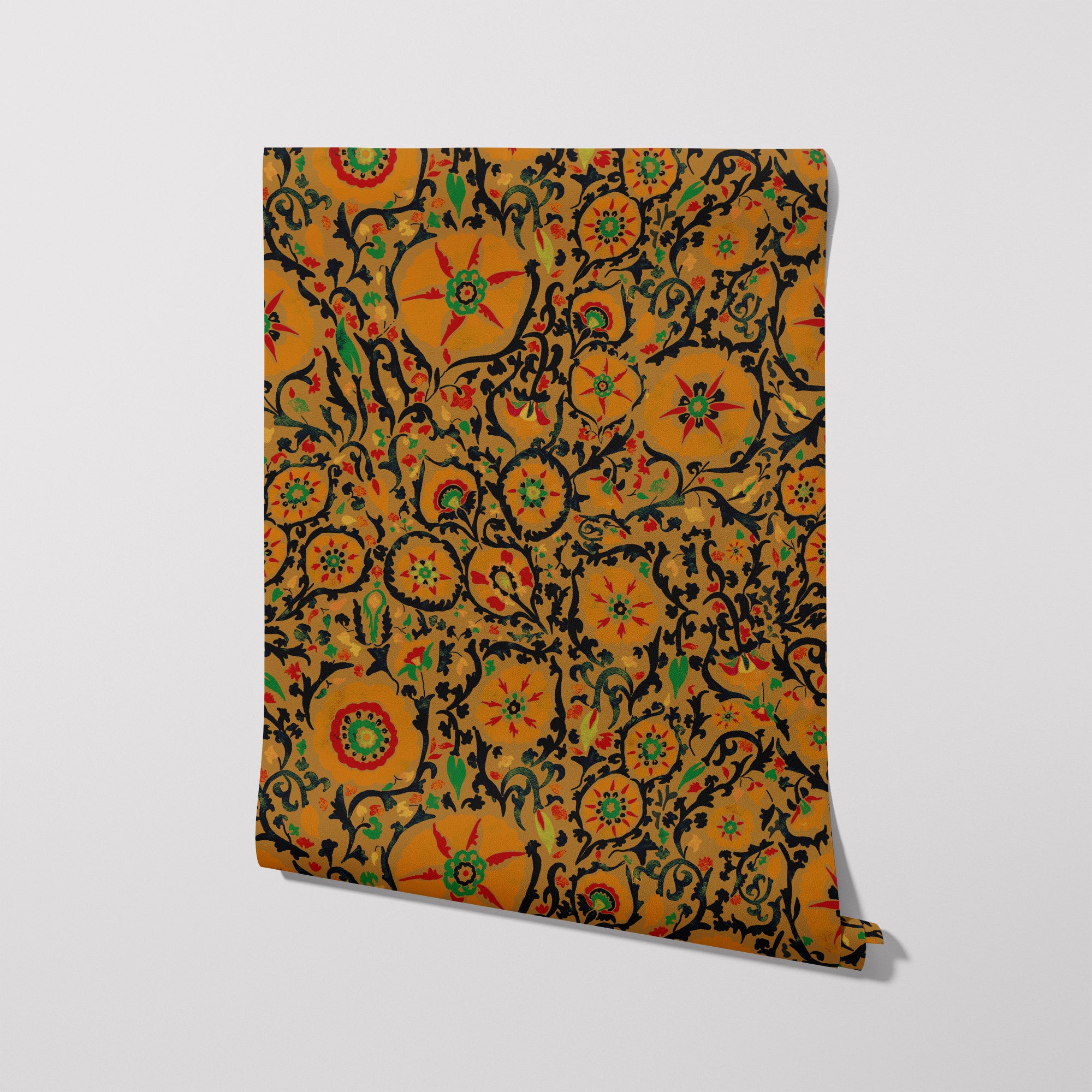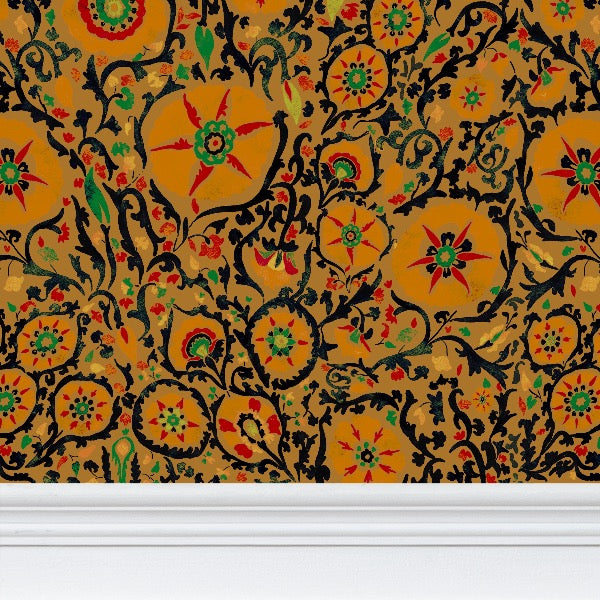 Suzani Floral Wallpaper, Mustard Yellow
Standard: Our durable, high-quality wallpaper offers a permanent print with excellent colorfastness for 10 years when kept away from direct sunlight. It is strong, scratch-resistant, and ideal for high-traffic areas. Our eco-friendly paper uses water-based inks and no solvents, aligning with our sustainability goals. Consider using lining paper for dark walls.

Premium: Choose our premium wallpaper for 100% opacity. This water-activated, prepasted option requires no additional paste. It features a matte finish, textured handle, and vibrant, long-lasting print with sharp detail. It shares the same tough, durable, and scratch-resistant properties as our standard wallpaper. The ECO-print is odor-free, and water-based inks offer a sustainable alternative.

Peel & Stick: For hassle-free hanging, our self-adhesive, peel and stick wallpaper is the perfect choice. Simply peel the backing and stick it to any surface. This matte, textured wallpaper can be removed and repositioned multiple times. It dries quickly, resists water, and provides total opacity.
Measuring for wallpaper is a straightforward process. Here's the easiest way to do it, step by step:

Measure the width of the wall: Use a tape measure to determine the width of the wall you plan to cover with wallpaper. Measure from one edge to the other, do not subtract any architectural features like windows or doors.
Measure the height of the wall: Measure the height of the wall from the floor to the ceiling or desired endpoint. Again, don't subtract any obstacles like electrical outlets or moldings.
Add extra for pattern repeat: If your wallpaper has a pattern with a repeat, you'll need to account for this when calculating the amount of wallpaper you'll need. To make hanging super easy, all our wallpaper repeats are exclusively 24.4" x 24.4". Add this measurement to the height of your wall to ensure you have enough wallpaper to match up the pattern correctly.
Calculate the total area: Multiply the width of the wall by the height to get the total square footage or square meters of wallpaper needed. If you have multiple walls to cover, repeat this measurement for each wall and add the totals together.
Consider extra for mistakes and future use: It's always a good idea to order a little extra wallpaper to account for mistakes, trimming, or future touch-ups. Adding 15% to your total square footage is a common recommendation to ensure you have enough wallpaper for the job.
AT A GLANCE
Handmade to order 

Three paper choices: standard: paste the wall, self-adhesive, or premium: prepasted

Eco-friendly, matte wallpaper 

Single, double, or triple rolls

Optional wallpaper sample
Easy and quick to hang
Our wallpapers are meticulously made to order in London, UK, undergoing three quality checks during the printing process. This attention to detail ensures a high-quality product. Please note that printing typically takes 3-8 business days. Once your wallpaper is printed, we ship it in reduced and recycled packaging, reflecting our commitment to sustainability. Once on it's way, the shipping process typically takes 1-2 weeks for your order to arrive at your doorstep.
Our wallpapers use water-based inks for eco-friendly printing on responsibly sourced, non woven paper/non-PVC, and are VOC and odor-free for a safe and pleasant environment. Being made-to-order, our collection reduces waste and overproduction, promoting sustainability and minimizing landfill impact.
Suzani Floral Wallpaper, Mustard Yellow
Sale price

$10.00
Regular price

$10.00
Choose options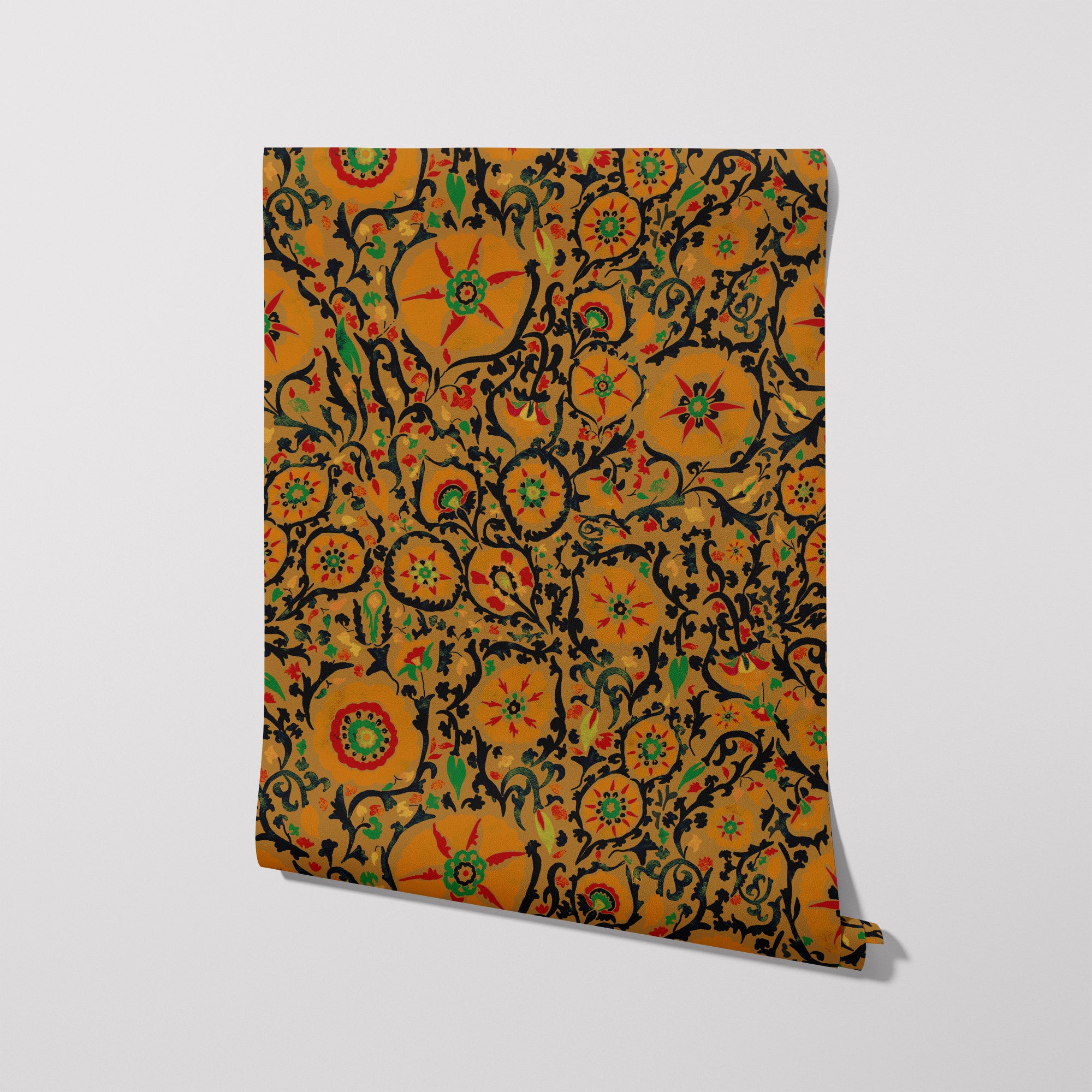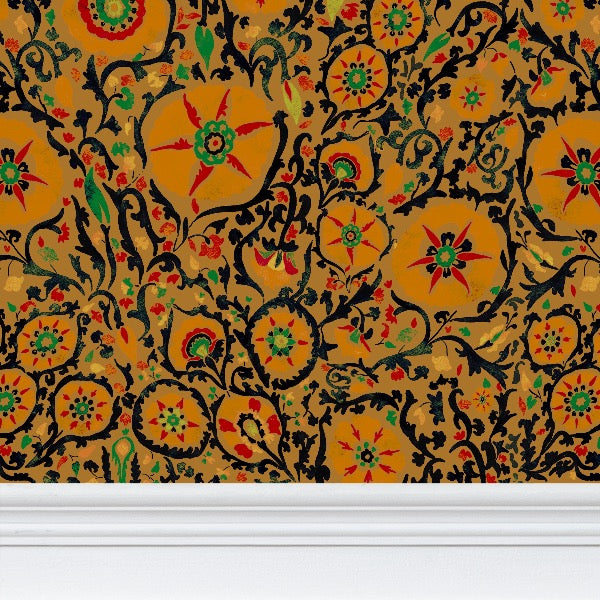 Very bold, makes a statement
I love the pattern, it's so bold and really makes a statement. It isn't overwhelming but definitely has contrasting shades that are hard to ignore. I looked at quite a few sample from a few places and got about 30 samples before I decided on this one, I'm very happy with it.
However….Shipping was kinda slow, it didn't want to clear customs and I had to reschedule the workers, but ultimately it was worth it and customer service kept me informed every step of the way.
The quality is great and the hanger even complimented how easy it went up (although he wasn't a fan of my choice, Ha!) oh well, I'm over making my home for other people and I absolutely love it.