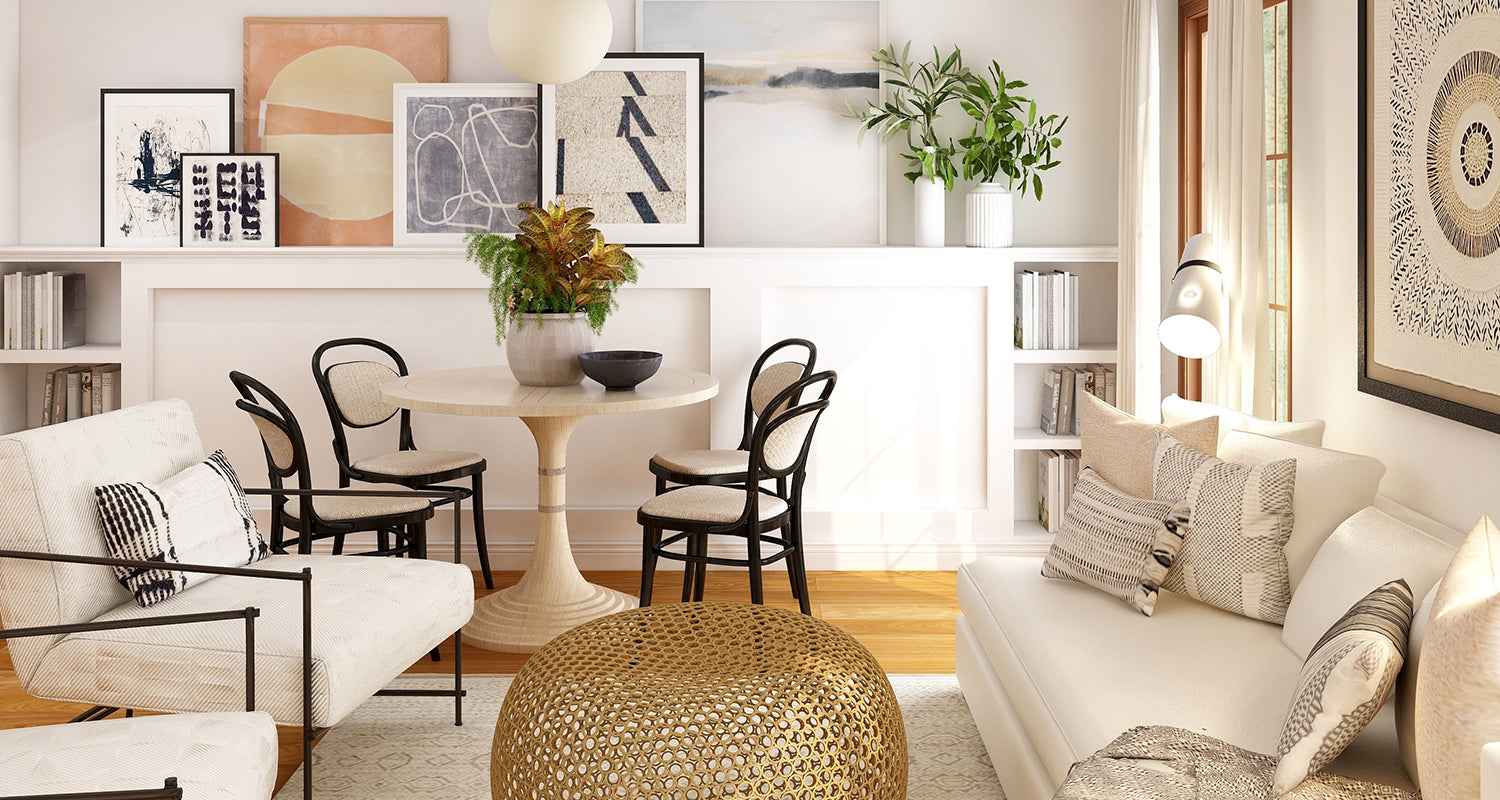 The ultimate guide to creating a boho Scandinavian look in your home
Boho Scandinavian style is a unique blend of two popular design styles. It combines the best of both worlds to create a look that is both stylish and comfortable. Meet boho style and Scandinavian style, and when the two styles merge, commonly called Scandi boho, you get a room with clean lines that doesn't feel you just landed in an IKEA, because the eclectic boho vibe of the well traveled keeps it personal, yet without a cluttered look—boho can often come with a maximalist-almost-hoarder tendency, (of which I am personally guilty).
Bohemian style, meet Scandinavian style, a true opposites attract love story.
It combines the best of two very different worlds to create a look that is both eclectic and clean. Sound impossible? Read on, because for many, it's the perfect interior design look, and we have a bunch of ideas and inspiration to help create it in your own life, without an interior designer.
- with a little planning, it's affordable & easy to source sustainable furniture from big brands that work—but won't feel like you bought a showroom, because it'll reflect your life.
-it's stable as a trend, so if this look speaks to you, rest assured it'll not feel dated in 2 years.
-A great compromise for those who want to maintain simplicity (bet you have more import things to do than dust knickknacks) while also being able to enjoy the lived-in feel of patterns and textures.
Start with natural materials
One of the most defining features of boho scandinavian is the natural vibes you get through, you guessed it—organic materials. Wood, stone and rattan are all commonly used. This helps to create a more organic feel that's also more sustainable. Use at least two, if not all, these natural materials in furniture and some décor accessories as a baseline to build on.
Wood
In wood, use primarily for tables and side chairs. In accessories try neat matchstick treatments in window treatments. For decor, driftwood or turned bowls, picture frames, even take note of the wood already existing in beams or floors that will fulfill a large part of this checklist. Here's the catch— look for lighter tones, not any painted, white-washed, ashed, or particle board materials, instead use mostly birch and pines, and opt for matte or barely there finishes. Big tip: Glossy finishes will ruin the softness aesthetic quickly.
Rattan
Rattan and wicker are heavy hitters, so use these as pops. Big vibes for a Peacock wicker chair or cool caned front of a sideboard, but you don't want to mix a lot of these together, it'll quickly go more boho style than scandi.
Stone
Stone is often overlooked as a great material with definite texture appeal. Think lava rock more than marble, again in matte, not shine…you want those earthy touchable textures. Coffee tables for a living room, desktops for an office space, entry tables for the foyer, or end tables for bedroom nightstands would all be great choices. For accessories, this is great for plant pots, catch-all dishes, candlesticks.

White walls lovers, rejoice!
Another key element of boho Scandinavian style is the use of light colours. This helps to create a bright and airy feel that is perfect for summertime entertaining or hosting a fall wine club. A big foundational part of this home design is built on getting as much daylight as possible bouncing around, so keep the walls white in most spaces. White, cream, very neutral colors for walls are all perfect in this type of design.
Wallpaper for Scandinavian design
Don't think you can't still infuse pattern through wallpaper or paint colors however (we are a wallpaper company, after all) but with this style, use colors for walls as you would picking a statement purse— make it count for impact, but less is more. Use them where you want to really break up the home decor flow or create drama.
Let the balance swing to the more boho side in small pops, which will create a lyrical journey through the house— like in a dining room, a lounge, bathroom, hallway, or your personal comfy oasis bedroom retreat. Check out the wallpapers on our site, our collection based on elements, is a great addition to this aesthetic, our geometric patterns that can add structure, or add in whimsy with the florals here. Big tip: when about to break the 'rule', your first question should be is it still allowing ample light to bounce in the space??
Layer in pattern to every room
Rich patterns are very important part to a Scandinavian bohemian style. The fabrics and textiles will add a touch of comfy warmth, infuse a wild side, and bonus, are a cheaper part to flip out. Mix it up, folks.
Animal prints, floral patterns, natural woven textiles are popular in this type of design, with good reason. They help to create a more visually interesting space that is perfect for entertaining or relaxing. To learn more about mixing patterns, check out the related article <here>.
To develop your atmosphere, let's take living rooms as an example. The fabric of your sofa or couch will be the biggest player—want more scandi, or need clean lines to break up some chaos, go with a quintessential scandi shape with natural woven fabric in a neutral shade, like a cream, brown, black. Want to lean more boho? Go with a patterned fabric, let's say an overstuffed jacquard look with fringed edges and traditional shapes. Mixing the two, or the boho route is too intense? Use a clean lines couch with patterned throws, pillows and layer draped sheepskins.
Accessories and light fixtures, the scandi boho style approach.
Light fixtures are also pretty important in boho Scandinavian interiors. This is due to the fact that this type of design relies heavily on the use of natural light, but we aren't all blessed with panoramic windows and skylights to allow ample light into a space.
Plus, they add a touch of style, and can help you balance a living room that's swinging to far scandi or boho. Chandeliers or pendant lights are often used in this type of design, followed up with a boho vibe floor lamp or wooden carved table lights. For accessories, draping shaggy sheepskins, or adding missing textures/colors in candles, vases, or patterned throws are all popular accessories in this type of design.
Bring on the vintage touches
Vintage pieces add that well worn feel to a home. I can't remember who said it, but a home should feel created overtime, not all bought on the same day. We love a luxury hotel bathroom, but we don't want to feel like our home is generic.
So combat that with the more eco-friendly and sustainable approach of using reuse/recycle items to help living rooms feel less on-the-nose Scandinavian design focused and more marriage of the two styles. A used oriental rug will feel more cozy than a neutral rug will, anyway.
Expert level: going bold on color, and picking art.
While natural, neutral, pastels or jewel tones are easily added to this style, and you can pick a few to make a great color story, saturated and bright colors are going to be expert level add to a scandinavian bohemian home, so get the foundations down pat before you go this route. Ready? Pick one bright color, let's say an electric blue or hot pink. It's adding a third personality to a room, and can quickly look a mess, start small, friend, so it's easy to back out and reassess. With your neutral palate down pat, infuse in small amounts through art, accessories, pillows, and match the same color and tone—it really needs to exact, no all of a sudden light blue or aqua, it will make the balance quickly feel like it's competing personalities.
Yes, patterns are often used in Scandinavian boho style to add visual interest and texture, and it's a great place to add interest to. A clean line aesthetic allows a lot of exploration, there are the tried and trues we discussed earlier like geometric, floral, and explorer traditional patterns like ikat or Moroccan styles. Then— there's altering in art. Take a look at the foundation you've designed, and add your aesthetic preferences—like jewelry adding sparkle to an outfit, there's not really a wrong answer, but a few will feel more right. Something more traditional, like a portrait painting might not be the first choice in a solo scandi vibe, but feels right at home in the scandi boho style. In our collection From The Archives, a poignantly perfect vibe would be from those maritime neighbors to Scandinavia—Dutch Masters, and their cloud paintings, striking a primo balance of a dreamy boho and clean scandi aesthetic. Or explore abstract line art, whether in florals or geometrics. Matisse cutouts are a particularly trendy look currently.
Whether you are looking for a relaxing, bohemian vibe or a clean, Scandinavian style, the scandi boho design approach can help you achieve both. With its focus on natural light and textures, with a boho twist, this aesthetic offers endless possibilities for any home. Whether you are looking to add some vintage touches or infuse your space with abstract art, the scandi boho style is sure to add a touch of style and sophistication to any living room. So why wait? You can do this!