Article: Give Your Walls an Opulent (and Eco Friendly) Makeover with Ramble & Roam Co.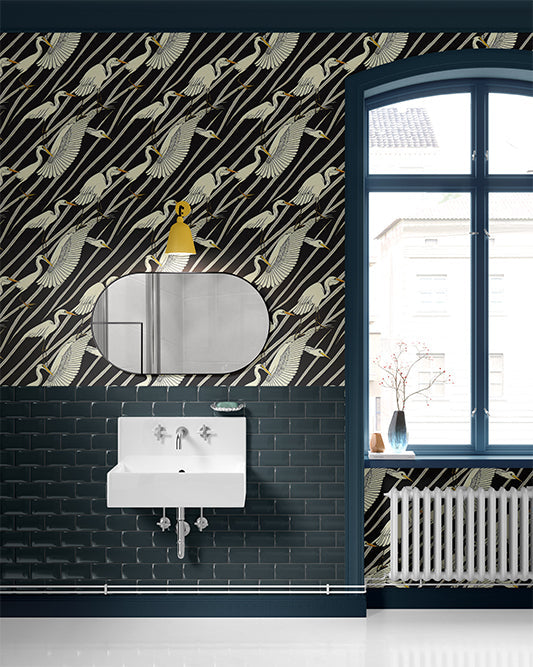 Give Your Walls an Opulent (and Eco Friendly) Makeover with Ramble & Roam Co.
Take a look at our range of art deco wallpaper designs and start making your walls an opulent masterpiece today!
I. Introduction
A. Ramble & Roam Co.
At Ramble & Roam Co., we recognize the vast beauty and limitless potential of home decor. We specialize in made-to-order items that reflect our three guiding principles: capturing the magic of adventure, honoring Mother Earth, and helping other artists. We believe that adventure starts at home and that with our unique handcrafted pieces, you can bring a touch of mystery and wonder to your living space.
Our fine art prints and canvases, digitally printed wallpapers, hand loomed rugs, and handmade ceramic pieces make sure you're always in tune with nature while being mindful of the impact on the environment. Finally, we're committed to helping the world's artisans and craftsmen stay afloat by supporting their work with your purchase—it's truly an investment in meaningful art! Come join us on this journey as we transform your home into something special with Ramble & Roam Co.
B. Art Deco Wallpaper Designs
If you're looking for a unique and memorable decor style, look no further than the stunning range of Art Deco wallpaper designs from Ramble & Roam Co. A true reflection of the prestige and luxury of the Gilded Age, their collection celebrates opulence and extravagance, with designs ranging from vibrant geometric patterns to sleek modern lines. We are always looking for special touches to make interiors stand out and these wallpapers provide that perfect finishing touch. Whether you're going all-out art deco or just adding a few subtle accents, Ramble & Roam Co's breathtaking range has something special to offer anyone looking for a luxurious atmosphere.
C. Benefits of Ramble & Roam Co's Art Deco Wallpaper
With Ramble & Roam Co's Art Deco Wallpaper, you don't just get a classic look – you get a timeless look. If you want to add a touch of luxury to your living space, then this is the way to go. I love how the matte finish and pastel color palette comes together to create an allover sophisticated vibe that complements any interior design setting. Not only is it easy to install, but it helps enhance the structure of your walls over time due to its strong PVC-backed construction. Invest in style and quality with Art Deco Wallpaper from Ramble & Roam Co for an experience that will speak for itself.
II. Ramble & Roam Co's Range of Art Deco Wallpaper
Have you ever wanted to take a step back in time and experience the glitz and glam of 1920s art deco? The perfect ticket could be Ramble & Roam Co's dynamite range of art deco wallpapers! Whether you prefer the geometric angular lines and shapes or floral inspired patterns, there's something in this collection for everyone. Each wallpaper has been carefully designed to offer a luxurious experience that is straight out of a high-end lifestyle magazine. With these designs, you can guarantee that your walls will look absolutely stunning and make all your visitors feel like they've stepped back in time onto movie sets from years gone by. It's truly remarkable how much impact the choice of wallpaper design will have to the overall feel of your room! Allow yourself to be carried away into the exciting Art Deco era with the help of Ramble & Roam Co's amazing selection - it's a true-life showstopper!
A. Classic Great Gatsby-Inspired Prints
If you're looking for a style statement that'll never go out of fashion, then you should definitely consider classic Great Gatsby-inspired prints. From art deco florals to geometric shapes, there is something for everyone. I recently discovered these stylish prints and dived into them head first - pairing them with just about anything in my wardrobe. I'm sure it's no surprise to anybody how timeless and classy these pieces look. With the right accompaniments, they can bring an extra dose of sophistication to any ensemble. If you're looking to take your fashion game up a notch, I suggest taking a look at some classic Great Gatsby-inspired prints.
B. Bold Contemporary Patterns
Bold contemporary patterns have a unique ability to combine modern style and timeless elegance like nothing else. Every color, shape and idea interact to bring flavor and top-notch style to any room they grace. A great thing about these patterns is that they can be easily mixed and matched with existing décor, or stand alone as a bold feature item – the choice is yours! With styles for every taste out there, there's something for everyone – be daring or go subtle. Let bold contemporary patterns help you make your space look modern but still classic with the unique flare that only comes from an eye-catching pattern. Just remember to step outside of the box and have fun with it - try something new and discover an unexpected combination you'll love!
C. Sustainable Paper or Recycled Woven PVC Peel and Stick
We recommend these glues
Henkel Solvite Ready-mixed wallpaper adhesive
Roman – PRO 880 Ultra Clear wallpaper adhesive
Zinsser SureGrip
Our sustainable wallpaper is unbeatable when it comes to durable quality, simplicity and environmental friendliness. With four unique choices on offer, you can rest assured that your needs will be met with Paste the Wall,Silk- which is crafted in sturdy and long lasting non-woven material- or even Paste the Wall Matte, which provides an extra layer of protection against scratch resistant surfaces and sunlight gleams. Additionally, if you're looking for something a bit different or are eco-conscious; we have our Pre-Pasted Water Activated wall covering made of PVC Free environmentally friendly materials as well as our Peel n Stick option designed from self adhesive polyester fabric. Get ready to update your home in style without any worries!
If you're looking for a sustainable wallpaper option to spruce up your home, look no further! Our range offers four amazing choices to suit all types of homes, tastes and budgets. Our coated silk wallpaper comes with a silky smooth and sturdy surface that adds an air of luxury to any room. Meanwhile, our uncoated wallpaper has an extra layer that makes it more resistant to scrapes; perfect for busy households with small children! We also feature a PVC-free wall-covering with water activated adhesive backing for easy application and removal. And lastly, for those who are after something even simpler, we have a self-adhesive fine woven textured canvas material which is Eco-friendly and removable without leaving any residue. Get the look you'll love while doing your bit for the planet - check out sustainable wallpaper selection today!
D. Eco-Friendly Inks
As the world searches for ways to become more environmentally-friendly, eco-friendly inks offer a creative and smart way of doing just that. These water-based printing products represent a greener option when it comes to the printing industry. By using biodegradable and non-toxic constituents, it generates 18 percent less carbon dioxide, helping businesses reduce their impact on the planet. With higher quality than traditional petroleum-based inks, these eco-friendly alternatives come without any compromise on print performance. And with advanced green solutions available for corporate houses and production centers, eco-friendly printing has never been easier or more efficient.
III. Creating an Opulent Masterpiece
With our wallpapers, you can transform any room into a truly opulent masterpiece. Whether you're looking to add a touch of sophistication, luxury and glamor or just want to make a statement, our wallpapers deliver the best of both worlds. With countless designs, attractive patterns and palettes to choose from, you're sure to find one that perfectly compliments your home decor. Take it up another notch with textured finishes that lend your space an added dimension of personality and bring focus and drama to focal points such as a feature wall or living room area. Reminiscent of the never-ending possibilities associated with art design, our products allow for endless stylistic expression without having to spend hours cutting, taping or applying paint – all in the effortless comfort of your own home.
The Trick to Choosing a Design
When it comes to choosing the right wallpaper for your home, you can't go wrong with carefully considering the different designs that are out there. From vibrant colors that captivate and fill a room, to soothing shades that have a more subtle impact, picking the perfect design can be daunting when there are so many options. However, by understanding what mood you want to convey in each room of your home, making a decision then becomes much easier. Different spaces require distinct audiovisual elements - think about how different a bedroom feels from a living room environment - so locate wallpaper designs that work alongside existing furniture and decor to create an atmosphere that matches how you want to live.
IV. Conclusion
A. Ramble & Roam Co., the Best Choice for Creating a Stylish Home Décor Look Without Compromising on Quality
After taking a close look at Ramble & Roam Co., it's clear that all the pieces come together to form the best choice for creating stylish home décor without compromising on quality. Their wide range of products combined with hassle free customer service and convenient online order platform make them stand out from their competition. No matter what style your home is, you can always find something unique and stunning that will add that special feature to your space. Here at Ramble & Roam Co., top notch quality and customer satisfaction are guaranteed! So if you're looking for an effortless way to make your house a home, there's no better destination than Ramble & Roam Co.